Can I Travel Abroad?
From 17th May (today) foreign travel is allowed for people who live in England, Scotland and Wales.
However, even if travel is possible, residents of Wales are being advised to go abroad only for "essential" reasons in 2021. Northern Ireland is yet to announce a relaxation of international travel rules.
A traffic light system will divide destinations into three categories – green, amber and red.
Visiting green countries involves the fewest rules and there's no quarantine when travellers return. The ranking of countries depends partly on the number of Covid-19 cases and the success of their vaccine rollout.
Green List
Which countries are holidaymakers allowed to visit without quarantining?
The 12 countries and territories on the green list are:
Portugal
Israel
Singapore
Australia
New Zealand
Brunei
Iceland
Gibraltar
Falkland Islands
Faroe Islands
South Georgia and the Sandwich Islands
St Helena, Tristan de Cunha and Ascension Island
The list will be reviewed every three weeks. Countries can be added or removed at short notice.
Not all green list destinations are open for tourism and the government says it is travellers' responsibility to check.
Portugal announced on Friday that UK tourists will be allowed from 17th May (today).
Amber List
The government says that people should not travel to amber countries, but from 17th May (today) it will no longer be illegal.
EasyJet and Tui have also said they will be offering holidays to some amber countries.
Before you travel back to England you must:
Take a Covid-19 test
Book and pay for a day Covid-19 test for day two and day eight of your return
Complete a passenger locator form
On arrival in England you must quarantine at home or in the place you are staying for 10 days.
You must follow these rules even if you have been vaccinated.
It may be possible to end quarantine early if you pay for a private Covid test through the test to release scheme.
There are similar rules for Scotland, Wales and Northern Ireland.
Red List
You should not be travelling to red list countries, the government says.
Dozens of countries are now on the red list, including India, Pakistan, Turkey, Brazil and South Africa.
If you have been in one in the last 10 days, you can only enter the UK if you are a UK or Irish national, or UK resident.
Before arriving in England travellers must:
take a Covid-19 test
book and pay for a day Covid-19 test for day two and day eight of your return
complete a passenger locator form
Upon arrival in England you must self-isolate for 10 full days in a quarantine hotel. You will need to agree to book and pay in advance:
10-day (11-night) rate for one adult in one room is £1,750
Additional rate per adult (or child over 11) is £650
Children aged five to 11 are charged £325
You can be fined £10,000 or jailed for providing inaccurate details.
There are similar rules for Scotland, Wales and Northern Ireland.
Traffic Light System for Arrivals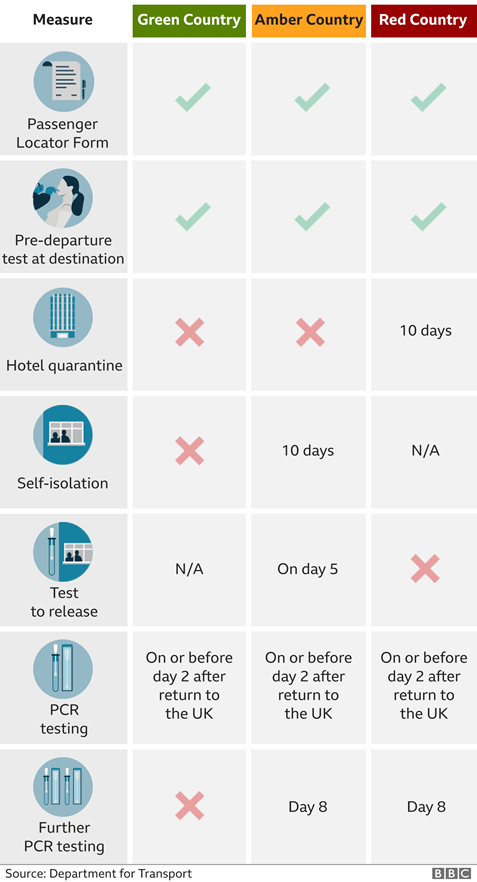 What about getting a holiday refund if the situation changes?
Government advice is not to book a holiday which does not include a refund, if the Covid situation changes in a particular country.
You are entitled to a full refund if official advice from the Foreign Office changes to say travel to a particular country is not advised.
What have other countries said about holidays?
The European Commission has recommended allowing travel for anyone who has received the last dose of an EU-approved vaccine at least two weeks beforehand. Vaccines used in the UK would qualify
Greece's tourism minister has said some Greek islands should be on England and Scotland's green list
Spain hopes to open up from June
France says tourists with a French Covid-19 "health pass" (TousAntiCovid) will be allowed from 9 June
How can travellers prove they've been vaccinated?
If needed, people travelling from England who have both Covid jabs will be able to demonstrate their vaccination status via the NHS app.
A letter can also be requested.
Have you booked your holiday? Don't forget your Travel Insurance! Call us on 01924 499182 for a quote tailored to your needs!
Credit: https://www.bbc.co.uk/news/explainers-52544307